Sunny Megatron is an adult sexuality educator, public speaker, sex blogger, and pleasure advocate. She is also the host and executive producer of SEX with Sunny Megatron on Showtime.
Voted one of the 6 most savvy sexologists in North America, she guest lectures at universities and teaches sell-out sexuality workshops across the continent with her husband and SEX with Sunny Megatron producer, Ken Melvoin-Berg. They cover a wide variety of topics including:
In addition to running her wildly popular sex ed youtube channel, Sunny also hosts the pleasure products focused Outside the Box web series and the BDSM focused Kinky Korner web series. Behind the scenes she is an adult content copywriter penning how-to's on sensual subjects ranging from the commonplace to extreme. She has been featured in Cosmo.com. Playboy.com, Jezebel, Buzzfeed, CNN, and a number of other large media outlets.
In her home city of Chicago, Sunny also hosts Red Light District Sex Tours. These tours are part sex history and part modern day sex-ed and allow guests to visit some of the sexiest spots in the city for hands-on instruction. One of her tours was featured on The Travel Channel.
This former "vanilla," corporate, working mom became an active member of the BDSM and non-monogamous communities in her mid 30's. Her unique experiences and mid-life revelations are what help make her so relatable to people at various points in their sexual journeys. These experiences also served as the catalyst that inspired her to pursue a second career in adult sex ed. Sunny is most known for her approach-ability, humor, and ability to present alternative sexuality topics ways that are accessible and understandable to the mainstream. She is also extensively knowledgeable about sex enhancers like dildos, vibrators, and BDSM gear.
Passionate about sex positivity, self exploration, pleasure based sex education, sexual safety, and women's issues, Sunny believes sexuality isn't shameful and it's time we stop making it out to be. Her goal is to normalize all types of sexuality and end sexual stigma. Sunny particularly enjoys helping those curious about adding a little spice to their sex lives that aren't sure where to begin.
Press:
Hire Sunny:
To book Sunny for a media appearance, university lecture, workshop, bachelorette party mini-workshop, or for sex and relationship writing, contact her via e-mail at sunny@sunnymegatron.com
Find Sunny here:
About the SEX with Sunny Megatron television show:
Get ready for a fresh take on a very old subject. Sex blogger, pleasure advocate and cyber celebrity Sunny Megatron takes us on a journey into the surprising, underground world of adult play. Through honest conversation and compelling personal stories, everyday people expose their deepest, most intimate fantasies, and nothing is taboo. Frank, funny and always sex-positive, Sunny Megatron just might be the perfect cure for your bedroom blues."  –SHOWTIME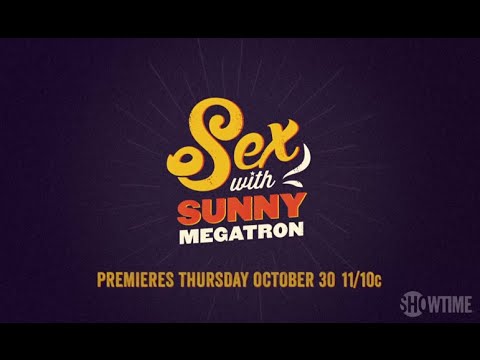 "Throughout her show, Megatron relies on calm curiosity, innate sexual intelligence and instant relatability to help viewers overcome any hesitation they may have about dedicating thirty minutes of their life to learning about clown fetishes or polyamory. Her goal is to "introduce you to worlds you never knew existed," but she's aiming for more than that. The idea is to make it acceptable to want to get naked with a clown (or do any other seemingly unusual thing in bed)."   –PLAYBOY   "If you haven't heard of Sunny Megatron before this moment, prepare yourself to enter a world where sex and sex education can be fun, non-judgmental, and completely devoid of shame."   –FLESHBOT   "Her popular, late-night show, Sex with Sunny Megatron [A Showtime Original Series], is a lot of education masked behind even more entertainment. And like hiding a pill in a puppy pouch, it's the perfect way to spoon-feed the more taboo tastes of sex to a vanilla-loving audience."  –PLAYGIRL MAGAZINE
Teaching Testimonials:
"Sunny Megatron is ballsy, funny and gives great ed!" –
Cliterati
"There's something about Sunny and Ken that's different from other sex educators, many of whom are so sex-positive that any awkwardness or reticence on the part of the student is met with judgment. Sunny and Ken are funny, real, not always serious—as sex should be."  

-Mark Shrayber, Jezebel
  "I attended your
fellatio class
. Thank you for creating such a safe environment for those of us who came alone and were petrified of being judged at that class. That was really the most memorable part for me- is how safe I felt about my own sexuality. You [Sunny] and Ken were extremely motivational in your confidence and support of each other with relationship. It left an extremely positive impression on me. So I wanted to thank you for being so open and honest, for making sex and sexuality safe concepts, for posting extremely interesting articles, and most importantly, your genuine attitude."  
-E from Chicago
  "I recently attended Sunny and Ken's "
Electrosex & E-stim" class
and left feeling that I was even more into electrical play than I was when I went in. They gave us a great wealth of information on the history of this style of play as well as giving us a rundown on the latest toys on the scene, and presented the class in a way that got everybody personally engaged, without feeling like they were putting you on the spot in front of the group. I've been thoroughly enjoying what I picked up in the class, and am looking forward to attending more of their classes in the future."  
-Ryan from Chicago 
  "You are amazing. I am so sensitive and easily offended toward people in this sort of alternative sex industry but you make it so painless and wonderfully direct. Thanks for the work that you do and thanks for being an intelligent, fun voice promoting awareness. You rock." 
 – misswolfe
"What was SO powerful for me was to witness wonderful people in the world who are not cowards who can proudly ask for and talk directly about sexuality.  It was clear in your
BDSM 101: 50 Shades of Taboo
lecture that everything you did was more aimed at pleasing the other person than simply meeting your own needs. Shades of grey? How about "come out into the light" and stand proudly. I am sure I will attend more of your talks and again thank you….for your teaching…."  
-J from Chicago 
  "I attended the
Zap! Electric Play
class last night and just wanted to thank you for a wonderful experience. It was my  first venture into a kink seminar and I was overwhelmed by the level of professionalism, safety and pure education exhibited by both the presenters and the environment."  
-C, Milwaukee
  "I attended Sunny and Ken's class on
Zap! Electrical Play
. They did a fantastic job of talking about safety issues in electrical play, dispelled common myths, and had a huge selection of different electrical play objects they used for a demo. They combined expert knowledge and humor, sharing their own personal "lessons learned" from electrical play. They provided good pros/cons of the different implements available. There was also time after the class to try some of the objects and see what the electrical play sensations were like. I was able to fulfill a long-standing curiosity about electrical play – and its now on my 'things I like' list."  
-C, Chicago
"I went on the Red Light District SEX tour last night, with Ms. Sunny Megatron as our host for the evening. It was AWESOME. Sunny was extremely knowledgeable about things, and even made the guys feel comfortable when we hit Skyscraper Heels." 
-Rob from Chicago 
  "I was on a private tour yesterday with a group so we had a custom "Weird & Sexy" tour with Sunny as our hostess…..I highly recommend that if you are booking a private tour to ask for her! She was not only extremely knowledgeable about the sites on the tour but had great tidbits along the way…..oh yeah, and she was damn funny as hell!" 
-Cathy S, Chicago 
  "We had a group for the Red Light District Tour.  Sunny was are sexy guide and Liz was our excellent driver.  We went to various stops to visit different "vendors" that serve the Chicago Area's sex industry.  Sunny was very good.. She was extremely knowledgeable not to mention funny and genuine.  It was fun to hear about what everyone on the bus preferred in their "kink" or "fetish".   I had no idea what some of my friends were into.  Don't judge a book by its cover.  Bravo WeirdChicago, Bravo.  Keep up the good work."  
-Charles J
    If you'd like to add your testimonial, please send it to 
Sunny@SunnyMegatron.com
  or use the contact form below.